Winter Charity Program 2017-18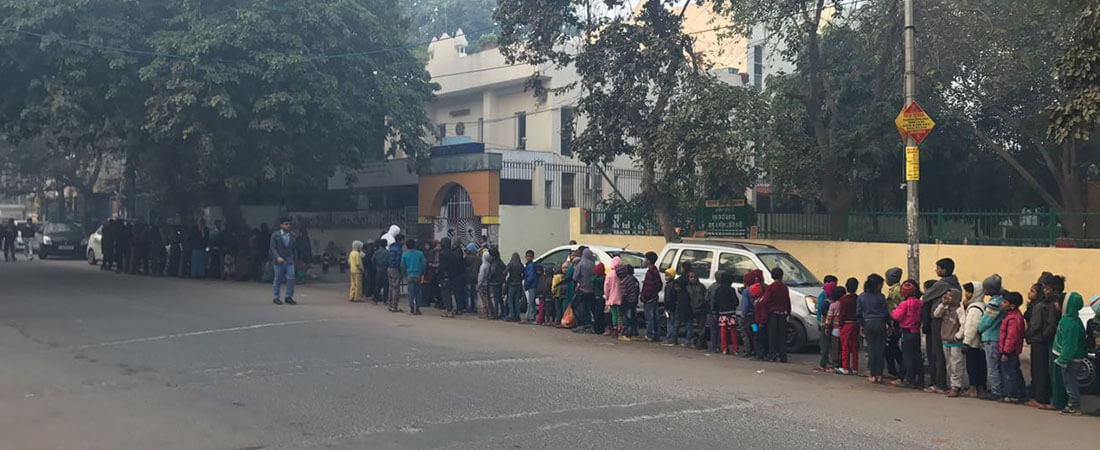 ADHYATMIC SADHNA SANGH (REGD.) 
WINTER CHARITY PROGRAM 2017-18
DHYAN YOG ASHRAM, C BLOCK,  NARAINA VIHAR, NEW DELHI-110028 
 Founder President: Swami Yogiraj Nanak Chand ji
Dear Friends,
Winter season has set in and the holidays – Christmas and New Year, bring with them joy and festivities. During this intensely cold season we wish to spare a thought for those not as fortunate as us. As in past years, Adhyatmic Sadhna Sangh is organizing a Winter Charity Program at Dhyan Yog Ashram, C- Block, Naraina Vihar, New Delhi starting from 25thDec 2017 to 28thJan 2018 between 7.45 a.m. to 9.00 a.m .
The Ashram will arrange for distribution of tea and snacks every morning to the neighborhood children, elders and road-side laborers/ rickshaw pullers etc. out in the early hours of the morning attending to their jobs. We also plan to distribute woolens/blankets etc. to the needy people and school going children during the winters.
Morning Tea & Snacks 
Woolen/ Shawls / Sweaters/ Jackets / Caps & Socks / Mufflers / Gloves
"

One day sponsorship - ₹ 2500/- (for 300 people) & Part Contribution- ₹ 200/- to ₹ 500/-
We will be able to accomplish all this only with the generous support and contributions from compassionate and caring disciples of the Ashram and well wishers. The local residents of Delhi are also invited to come and assist in the Winter Charity Program, 2017-18.  Those wishing to sponsor the program on a specific date or contribute in any way towards the conduct of the program or to offer their services for morning duties may contact the office bearers indicated below, telephonically or by e-mail. Voluntary donations for the Winter Charity Program may also be made by cheque payable to the Adhyatmic Sadhna Sangh or by electronic bank transfer to the Society account.
Contact Details
President: Shri. Darshan Lal Rawal, Mobile No- 8826609221
Gen Secretary: Dr. Anjula Naib, Mobile No- 9810163237
Manager: Dhyan Yog Ashram , Tel No. 011- 25774142
Email id: dhyanayogashram@gmail.com
Ashram Website: www.dhyanyogashram.com
Facebook :  https://www.facebook.com/pages/Swami-Yogiraj-Nanak-Chand/ 131168900399796